Kwak Bin 1 run, Noh Si-hwan 2 RBIs, 'future of Korean baseball' revealed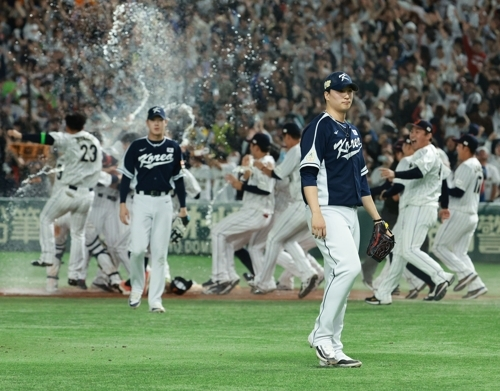 The game between Korea and Japan was tightly contested until the ninth inning with seven hits and two runs apiece. Korea fell just one step short of the podium in extra innings and had to settle for runner-up honors at the 2023 Asia Professional Baseball Championship (APBC).
The Ryu Jung-il-led Korean National Baseball Team lost 3-4 in 10 extra innings in the final game of the APBC 2023 against Japan at the Tokyo Dome in Japan on Monday. It was the second consecutive second-place finish at the tournament for Korea, which followed a 1-2 group stage loss to Japan on Sept. 17.
However, the team showed a glimpse of the future of Korean baseball by beating Australia and Chinese Taipei before going toe-to-toe with Japan in a tournament that featured only players aged 24 and under or in their third year of professional play. Japan, which topped the inaugural APBC in 2017, is a baseball powerhouse that won both the Tokyo 2020 Olympic Games and the 2023 World Baseball Classic (WBC).
Kwak Bin (Doosan Bears) pitched five innings of one-run, five-hit ball, striking out five and walking one to make up for the fact that he was unable to pitch at the Hangzhou 2022 Asian Games due to back problems. He faced a hit in each inning, but he mixed his fastball and curveball to take away the timing of the opposing batters and get out of trouble. Choi Seung-yong (Doosan), Choi Jun-yong (Lotte Giants), and Choi Ji-min (KIA Tigers) followed with four innings of one-run ball. At the plate, Noh Si-hwan (Hanwha Eagles) went 2-for-2 with a double and an RBI.
Japan starter Tatsuya Imai allowed two runs (one earned) on five hits with four strikeouts in four innings. Imai joined the Japanese team as a wild card after leading the Nippon Professional Baseball (NPB) with a 10-5 record and 2.30 ERA this season, but struggled against the persistent Korean bats. Haruka Nemoto (3 innings), Kirishiki Takuma (1 inning), and Kazuto Taguchi (1 inning), a left-handed bullpen that held the Koreans scoreless until the ninth inning.
In the top of the third inning, leadoff hitter Kim Hye-sung (Kiwoom Heroes) drew a walk and Kim Do-young (KIA) laid down a sacrifice bunt, but first baseman Maki Shugo was unable to catch the ball in one motion. Noh Si-hwan followed with a double that rolled over the shortstop's head and into the fence to score both runners.
Japan evened the score with a long ball. In the bottom of the fifth, No. 4 hitter Maki took a curveball from Kwak-Bin for a solo arch over the left field fence. In the next inning, Chusei Mannami doubled down the first base line, scored on Makoto Kadawaki's bunt and came home on Teruaki Sato's sacrifice fly.
The game was decided in the bottom of the 10th inning with runners on first and second base. After Kim Do-young singled, Yoon Dong-hee (Lotte) drove in a run with a crisp single. Japan loaded the bases with a sacrifice bunt and a walk, Shogo Sakagura tied the game with a sacrifice fly, and Kadoki completed the comeback with a game-winning single.