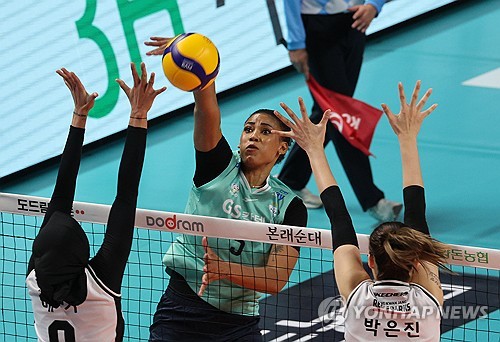 GS Caltex Fixer Silva "Staying strong until the end of the season"
GS Caltex women's professional volleyball fixer Giselle Silva (née Silva) outperformed the team's top two players, Megawatti Puttiwi (née Mega) and Giovanna Milana (née Gia), to give the team a 3-1 victory.
Silva played in the home match against Chung Kwan Jang at Jangchung Gymnasium in Seoul on Thursday, shooting 57.41 percent in three sets and scoring 34 points to lead her team to a 3-0 sweep.
She committed just five attack errors and added three Altoran-like blocks. She also added six second-chance points.
Silva, who poured in 25 points in sets two and three alone, set the stage for the upset with a valuable block in set one.
Trailing 20-22, she floated over the net with Han Su-ji to block an open Mega attack.
Mega was blocked by Silva and Han Su-ji in turn, and Chung eventually went down on deuce in the first set after conceding a 22-22 tie.
"The plan was to follow her the whole game and block her," Mega said in a post-match interview, recalling her blocking score in the decisive game.
After the last game, GS Caltex head coach Cha Sang-hyun asked Silva to move with a faster step.
"Coach Cha's prescription worked," Silva said, "I adjusted my step speed and moved faster, so I was able to hit the ball at a high point and it was easy to make double attacks."
Silva, who made his debut in the V-League and immediately established himself as GS Caltex's mainstay with his devastating attacks from a height of 191 centimeters, said, "Coach Cha is tough on the court during practice, but he's really sweet off the court after practice," explaining, "It's the first time I've worked with a coach who knows the difference between the ball and the game."
When asked about their next opponent, leader Heungkuk Sinsung, Silva replied, "We're going to keep our strong mentality until the end of the season." It read as a statement of intent to face any opponent with a strong spirit.
GS Caltex trails leader Heungkuk Sinsung by three points. 먹튀검증